Unique accommodation close to nature
Sweden has countless opportunities for tourists to get close to nature in special, often unique settings. From treehouses and hotels made of ice to off-grid cabins and luxury glamping sites, the options to suit every taste and budget are plentiful.
Southern Sweden – from forest retreats and beech wood vineyards to floating saunas
South west and the coast
The entire west coast area is steeped in beauty. A great way to experience it is by staying in a '72 Hour Cabin'. These glass cabins offer a close to nature experience, often combining vegan cuisine, activities like rowing, kayaking and horseback riding.
Inside a 72 Hour Cabin at Henriksholm, West Sweden Photo: Anna Lena Lundqvist/Westsweden.com
Still in Dalsland, in Köpmannebro, Swedish Country Living overlooks a lake on the edge of the forest. It offers several types of accommodation to suit all group sizes, the smallest of which is 'The Hermitage', an off-grid wooden hut for two that offers sumptuous views and perfect tranquillity. The hut is built using recycled and sustainable materials. There's a zero-waste policy here and you can enjoy eggs for breakfast laid by their own hens.
Chainsaw carving artist Sören Niklasson helped create the elk-shaped wooden cottages at Wrågården, a four-hut settlement in the forest outside Falköping. The cottages can host from 5 up to 10 people and offer a porch where you can relax and watch animals. Walking freely in the park are friendly elks and fallow deer which can be seen up close. They also have guided tours where you can see the herd of around 70 bison.
At Islanna Trädhushotell, near Falköping, you can sleep in a treehouse 6.5 metres up among the oak branches. One of the two treehouses, 'Sjunde Himlen' (Seventh Heaven), really lives up to its name. The stunning house displays intricate carpentry, and besides the magnificent view, it also boasts a tower room and a crystal chandelier. With breakfast and other essentials hoisted up to your room, you may never want to come down.
A two-hour drive to the west, the coastal archipelago is home to 'Salt & Sill' (Salt & Herring), Sweden's first floating hotel. This modern, internationally acclaimed, design hotel on the islet Klädesholmen, literally sits on the water, and offers 23 rooms and a suite. Moored up in the hotel's dock is S/S Silla, a floating sauna boat with an outdoor hot tub on its upper deck. It also features a renowned restaurant serving fresh seafood, specialising in herring.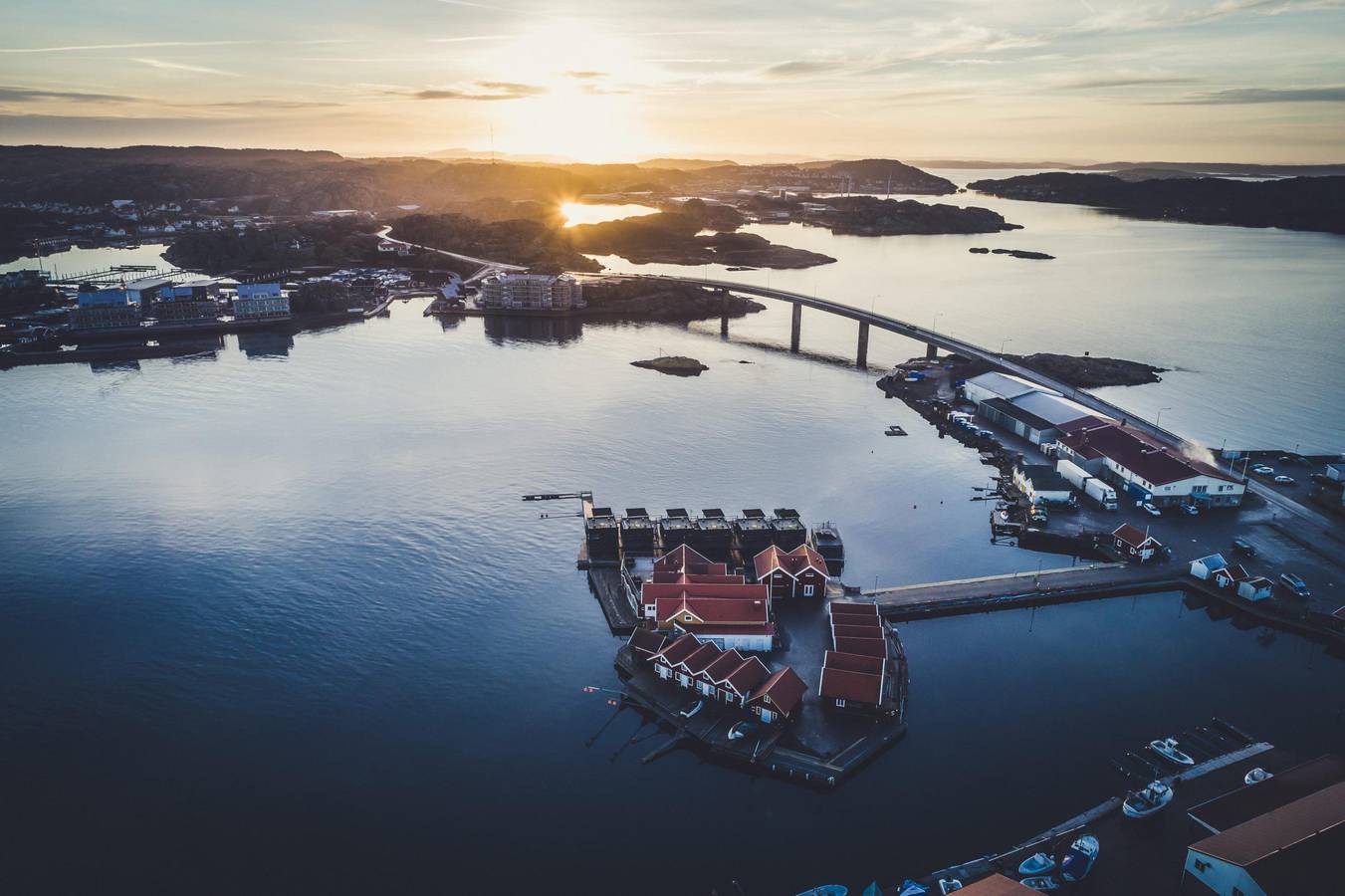 Salt & Sill, West Sweden - The floating hotel and restaurant Salt & Sill at Klädesholmen. Photo: Tony Meyer/Westsweden.com
If you want the feeling of camping near the sea in a more luxurious way, glamping could be just the thing. Family-run Anfasteröd Gårdsvik nestles in forestry in the heart of Bohuslän and provides furnished safari tents with heating and comfortable beds as well as a bathroom (shower and toilet) and kitchen. They also have camping sites and a range of historic cottages.
Halland
In the county of Halland, vast forestry provides many a natural getaway. Stedsans in the Woods, a 'lab for the lifestyle of the future,' offers wooden cabins with floor-to-ceiling windows and a secluded restaurant serving local, foraged and home-grown produce. The mainly plant-based food is turned into tasteful and fresh dishes. Beverages like natural wines and homemade, alcohol-free alternatives made from herbs are also served.
Further towards the coast, Swedish wine attracts visitors to Ästad Vingård, one of the country's largest vineyards, tucked away in a beech forest on a nature reserve. This accommodation ranges from rustic timber cottages to luxurious suites with their own saunas. The renowned Restaurant Äng, offers an elevated take on the farm-to-table experience.
Gotland
A well-known summer paradise for Swedes, Gotland offers everything from beachside camping to unique nature hotels. Djupvik Hotel, a serene residence on the west coast of the island, is favoured by a crowd attracted by its modern architectural style and who put wellness high on their agenda. Take a dip in the hotel pool or in the sea, with its sand beach it's the perfect spot for families with kids.
Also on the west coast, Surflogiet Gotland offers a remote glamping experience that can be combined with a surfing course. Beyond surfing, you can also rent canoes, enjoy a sauna, do yoga on the beach or simply kick back and relax at the beachside bar.
Showcasing Swedish architecture at its best, the exterior of former quarry Fabriken Furillen contrasts starkly with the welcoming Scandinavian furnishings inside its buildings. The accommodation has rooms in cabins and the main hotel, while for those after a bit of extra privacy the Hermit Cabin is a freestanding hut 20 minutes by bicycle from the main block.
Stora Gåsemora gård, on the east coast of Fårö, a neighbouring island located north-east of Gotland, offers accommodation and a restaurant, as well as a stage for summer concerts featuring popular Swedish musicians. The original house from the 1700s is complemented by a modern residence next door, creating a fine example of old and new Swedish architecture existing in harmony. Both enjoy stunning views out to sea.
Central Sweden – rooms with a view from mountain peaks to forest retreats
Värmland
The border region between Sweden and Norway attracted Finnish settlers in the 17th century, and the Mattila holiday village, founded in Finnskogen in the 1960s, still retains some of the cultural heritage of its first settlers. Today, guests can take part in cross-country skiing, fishing, canoeing and hiking in this resort comprising rustic cabins.
For those who prefer camping, Happie Camp can be a new experience. What's special is that you don't know exactly where you'll be staying until the last minute, when organisers send you the exact coordinates to find your comfortable tent. The two current camps, at Arnön on Lake Vänern and Hagfors, place an emphasis on relaxation, but there are many activities on offer too, including kayaking, yoga and forest walks.
Hidden among the trees on the shores of Lake Eldan, 63 km west of Karlstad, Naturbyn offers hand-built log cabins, cottages, treehouses and even a wooden houseboat. Ideal for a complete detox, this is an off-grid, WiFi-free resort with the sights and sounds of nature providing the entertainment. Relax in the wood-fired hot tub before taking a dip in the lake. Or perhaps join a fishing trip and cook your own catch on one of the open fires dotted around the camp.
Still on the water, the camping raft Storlom at Värmlandsgården, near the uninhabited island of Getön, offers a more remote getaway option. The raft, suitable for up to four and reached from the shore by canoe, is equipped with a cone-shaped tent offering two sleeping spots, two chairs, a table, BBQ and separate toilet shed.
Jämtland
For those looking for a sense of adventure, Jämtland is hard to beat. Åre has been attracting tourists for well over 100 years. In the town centre, the classic Hotel Åregården, despite now being an exclusive, luxurious, hotel, still retains much of the charm that brought people here as long ago as 1895. It offers two fine restaurants and fabulous views over Lake Åresjön and the mountain tops.
If you prefer to be up in the mountains themselves, Fjällnäs, the oldest mountain hotel in Sweden, is perfect for exploring the area all year round. Another lakeside oasis, some 10 km from Tänndalen, it's been welcoming guests since 1882. Its six buildings offer 41 rooms, a restaurant serving local specialities and a chapel showcasing art and architecture. If you're looking to be pampered, pay a visit to the spa, 'Mii Gullo' (meaning "How are you?" in Sámi).
Åre's Copperhill Mountain Lodge combines modern architecture with stunning nature. This hotel is mainly built in wood and the panoramic windows of the spa area give a striking overlook of the mountain Åreskutan. The restaurant's cuisine is based on healthy, locally sourced ingredients. Copperhill Mountain Lodge offers packages for various experiences including hiking, spa, gourmet and the Northern Lights.
Copperhill Mountain Lodge is a design hotel situated on top of Förberget in Åre, Jämtland. Photo: Copperhill Mountain Lodge
Northern Sweden – down on the water or high in the trees, an experience to savour
Swedish Lapland
In the far northern reaches of Sweden, Swedish Lapland is perfect for those seeking remote, unique accommodation under the Northern Lights (wintertime) and the midnight sun(summer).
The Mirrorcube at the Treehotel in Harads, Swedish Lapland - Treehotel in Harads offer different accommodations, here is the Mirrorcube, a box clad in mirrored glass. Photo: Swedish Lapland
In Harads, some 100 km from Luleå airport, Treehotel offers seven different huts; 'Mirror Cube', 'The UFO' and the 'Bird's Nest' to name a few. All huts were created by leading Scandinavian designers and architects. The huts are suspended some 4-6 metres above the ground with lovely views of the surrounding area. Down on the ground, activities available include guided hiking tours, kayaking, snowmobile safaris and fat bike riding.
Arctic Bath in Harads - The new Arctic Bath located on the river in Harads, the heart of Swedish Lapland. Photo: Swedish Lapland
Next door to Treehotel, the Arctic Bath Hotel is no less spectacular. You can stay either on land in cabins on stilts, or on the river in floating huts. The centrepiece of the resort is the floating open-air cold bath, an exquisitely-designed pool house shaped to imitate logs jammed in the rapids. You can take a dip, then pop into the spa for a variety of treatments, before tucking into a gourmet meal prepared from sustainably sourced ingredients, introducing you to the Sámi kitchen. Further afield, you can try ice fishing, husky rides and bear and moose spotting.
Bearing in mind the cold climate for much of the year, igloos crafted from ice have provided natural shelters for centuries. In Kalix, you can experience a modern (warmer) take on the concept at the Ice and Light Village. The resort is made up of a group of modern cottages encapsulated by igloo-shaped shells that combine glorious views over the water and maximum comfort. Depending on the season, activities on offer range from summer kayaking and golf, to winter activities like day trips on an ice breaker and dog sledding.
Laponia in Swedish Lapland was designated a World Heritage Site in 1996 by UNESCO. Here, you can sample glamping with a twist at the Sapmi Nature Camp. At this eco lodge, you'll sleep in 'lavvu' (small tepee-like tents) and learn about the Sámi way of life. Families who have grown up here will share their history of reindeer herding. You can also try out skiing on traditional wooden skis in well laid-out tracks leading directly from the camp.
In a similar way, the Vinka family, who have lived in the area for centuries, have been welcoming guests to the secluded Geunja eco lodge for decades. Located beyond Ammarnäs, literally at the end of the road – Route 363 in this case – they only take in a maximum of 12 groups a year, and those who do stay can immerse themselves in Sámi culture, food and traditions. Fishing and hiking in the mountains are just two of the many activities you can enjoy, but above all it's a perfect way to get to know the real meaning of being close to nature.
Source: Visit Sweden